7 Pin wiring diagram
Towbar wiring diagrams are an essential tool for any garage owner or mechanic when installing towbars on vehicles. These diagrams provide a visual representation of the vehicle's wiring system, showing the connections between the various components and how they fit together. The 12N electrical kit is a standard kit used for operating the rear lights of a trailer.
The diagram below is also known as the 12N.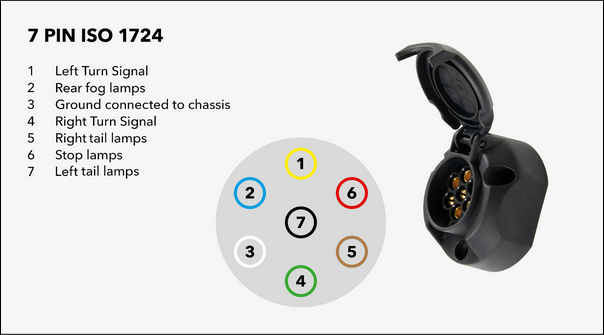 | | | |
| --- | --- | --- |
| Pin number | Function | Colour |
| 1 | Left turn Signal | Yellow |
| 2 | Rear fog lamps | Blue |
| 3 | Ground connected to chassis | White |
| 4 | Right turn signal | Green |
| 5 | Right tail lamps | Brown |
| 6 | Stop lamps | Red |
| 7 | Left tail lamps | Black |
Smooth and swift installations
For every towbar wiring kit installation, we provide you with comprehensive fitting instructions. It is full of information to aid you with the process with step-by-step illustrations and also tells you which vehicle trim panels must be removed.
In case you have any questions during the installation process, you can reach out to our FAQs (Frequently Asked Questions) or the 'Technician Support' helpline. Within every wiring kit, we give our customer service phone number which connects to our multilingual technical website and helpdesk support. This phone number is free of charge.
For more information in general, please read our comprehensive guide about towbar electrics.