Towbar electrics
Basic wiring for your towbar might sound straightforward however, with advanced technology embedded in cars over the last few years, it transformed into a more challenging puzzle. Having the right wiring kit for your vehicle is vital to let the functionalities of the vehicle function properly.
At ECS Electronics, we have more than 400 towbar wiring kits tailored to specific vehicles. Our kits are well-known as reliable connections that function flawlessly for decades. The knowledge and expertise that we gained over time helped us to grow into a strong brand. Therefore, we would like to show you valuable information about towbar electrics.
13 pin vs 7 pin towbar electrics
Within towbar electrics there are 2 different types of sockets:
7 pin socket
13 pin socket
A 13 pin socket offers more functionality and is therefore more suitable for the additional requirements for a caravan. 7 Pin sockets on the other hand, only offer basic road lighting.
7 Pin and 13 Pin Electrics explained
The 7 pin wiring diagram below will help you understand how each function connects to the towbar wiring colours in a 7-pin towing socket.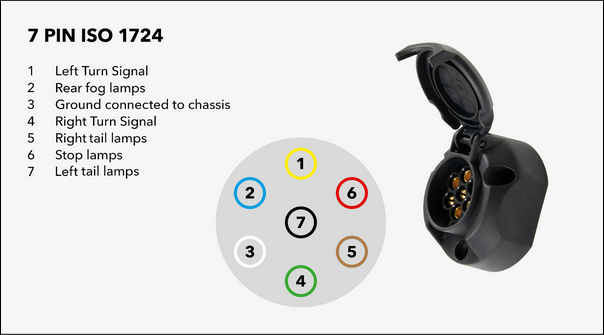 7-pin electrics is excellent for simple towing because it provides you with all basic legal lighting requirements for safe towing of your trailer and bike rack.
13-pin electrics combine basic and advanced electrical features needed for towing within one plug. This makes a 13-pin socket tidier and easier to use as all of the functions are encased within a single socket. Each pin in the 13-pin towing socket has a specific function with a corresponding colour, allowing you to see which wire in the socket provides which electrical function.
If you are towing a trailer or caravan, you will benefit from a 13 Pin & 7 Pin Socket vehicle specific kit as this will connect to your vehicles's advanced features that can include such things as trailer stability.
See how a 13-pin towing socket works in our helpful colour-coded diagram, showing you which pins supply with electrical functions. For further details, look up our 13 pin wiring diagram.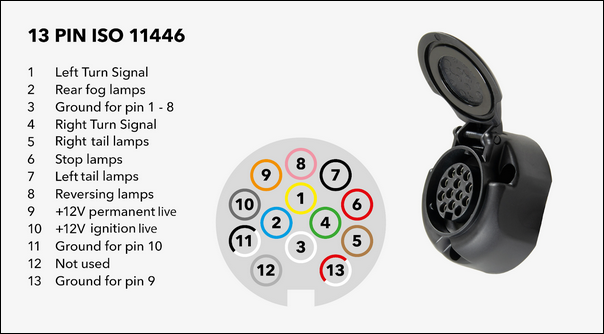 Vehicle-specific or universal towbar electrics
Vehicle specific towbar electronics are designed specifically for a particular vehicle make and model. A universal kit can be fitted to almost any vehicle, however, will bypass any towing related features, for example, trailer stability.
In the video below we also explain the advantages of a vehicle specific wiring kits.
When do you need a towbar electrics adapter?
When your towbar has a 7-pin electrics socket but your caravan or trailer has a 13-pin plug, then you will need a 7-pin to 13-pin adapter. Please note that this will not provide you with the functionalities of a 13-pin socket, it will only extend the 7-pin functionalities. Do you need a specific adaptor to ensure a reliable connection?
Check our trailer or towbar adaptors.
Need help with installing your towbar electronics?
It can be annoying and frustrating if you encounter any problems during the installation process. In that case, please consult our FAQ on towbar wiring kit installations. If you cannot find a solution on our website, please contact our free technical support helpline. Our team consists of the same engineers that developed the towbar wiring kits.
Find the towbar electrics for your vehicle
To determine which type of towbar electrics is the best option for you, you need to take into account what you are towing and which sockets can be used. With our search tool, you can find the vehicle-specific wiring kit in a matter of seconds. Select the brand of the car and the specific model. Look up the body type and the year the car was produced.
It is also possible to order many other kits in bulk. So, do you know which wiring kit you want to purchase? Save yourself some time using our tool to quickly order towbar wiring kits.